Overcome Procrastination
Inspirational Speaker Neil Fiore, PhD an executive coach, a psychologist, trainer and author has helped thousands of people and hundreds of organizations become more productive and achieve their optimal potential.
Inspirational speaker Neil Fiore provides his audiences and his one-on-one coaching and therapy clients with practical tools for overcoming procrastination and workaholism, managing stress, and increasing joy and balance in their lives.
---
Dr Neil Fiore's Overcome Procrastination preview of upcoming webinars:

"7 Strategies for Success in Business & Life"
Click Here To See A 5 min Summary
---
NEW BOOK!
Available in stores Now!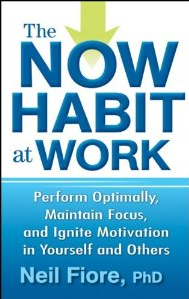 Business managers, entrepreneurs, and those working from home can now perform optimally, ignite motivation, and live a balanced life by applying the strategies and tools in The Now Habit at Work: Perform Optimally, Maintain Focus, and Ignite Motivation in Yourself and Others.
The Now Habit at Work gives you a hands-on manual enabling the resilience and focus of champions — the ability to bounce back from set-backs, to believe in yourself, and to focus on solving problems rather than seeing only obstacles.



Learn more
See latest Articles:
CNBC Article: Productivity Expert Dr. Neil Fiore Shows Business People How to Work at Full Capacity While Enjoying a Balanced Life (link)

Forbes Article: Productivity Expert Dr. Neil Fiore Shows Business People How to Work at Full Capacity While Enjoying a Balanced Life (link)

---
Events and Seminars
---
Recent Articles
My recent additions: